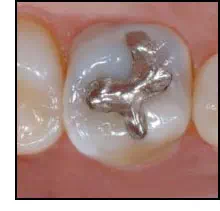 Dental Offices Managing Specific Wastes - Dental Amalgam
Dental amalgam contains a mixture of metals such as silver, copper and tin, in addition to mercury, which chemically binds these components into a hard substance. In recent years there has been controversy over the use of this material for dental fillings. The Federal Drug Administration (FDA) identifies amalgam as a potential health risk when amalgam fillings are placed in or removed from teeth. Mercury vapor is also released during chewing. See FDA Q&A on dental amalgam for more information on dental amalgam and alternatives.

Many states have enacted or proposed laws that limit the use of amalgam, that require dentists to inform patients of the risks involved in using amalgam, or that offer alternatives.

The focus of this section is best management practices. We have not attempted to present a summary of the controversy regarding the widespread historical and continuing use of dental amalgam. On this page, you will find recommendations from several sources on how to best manage waste dental amalgam.
Common dental amalgam wastes include:
clean unused scrap including excess material and damaged capsules (non-contact amalgam),
used amalgam (contact amalgam) including sink trap cleanout, and
amalgam contained in extracted teeth.
Dental amalgam should not be disposed of in the garbage, infectious waste "red bag," or sharps container. Amalgam also should not be rinsed down the drain. These cautions are important because some communities incinerate municipal garbage, medical waste, and sludge from wastewater treatment plants. If amalgam waste ends up in one of these incinerated waste streams, the mercury can be released to the environment due to the high temperatures used in the incineration process. Increasingly, local communities are enacting restrictions on the incineration of wastes containing mercury.
In most areas of the country, the best method of amalgam disposal is offsite recycling using a "mail away" service. Examples of commercial mail away services include:
Amalgaway, IN – all amalgam wastes (800) 267-1467
Bethlehem Apparatus Co, Inc., PA – all amalgam wastes (610) 838-7034
Dental Recycling of North America, NJ – all amalgam wastes (800) 360-1001
Dental Refiners, NV – offers pick-up services throughout Idaho (800) 786-1742
Maguire & Strickland Refining, Inc., MN – all amalgam wastes (800) 486-2858
Mercury Refining Company, Inc. – only non-contact amalgam (800) 833-3505
Enviro-Chem Inc (763) 428-4002
Mercury Waste Solutions (800) 664-1434
medentex, amalgam wastes, both loose and that from the amalgam separators (888) 640-2527
Your state environmental agency may be able to provide you with additional choices. Also, the ADA maintains a listing of national and local recycling companies, see http://www.ada.org/~/media/ADA/Member%20Center/FIles/Recyclers_Direct_4_02_12.ashx
American Dental Association. The American Dental Association (ADA) encourages dentists to implement best management practices (BMPs) to help reduce the effects of amalgam waste on the environment. ADA's guidance for amalgam waste includes a series of waste handling and disposal practices:
pollution prevention (e.g., stock amalgam capsules in a variety of sizes to minimize the amount of amalgam waste generated),
initiate bulk mercury collection programs,
using chair side traps, amalgam separators compliant with ISO 11143 and vacuum collection,
inspecting and cleaning traps, and
recycling or using a commercial waste disposal service to dispose of the amalgam collected.
These BMPs were approved by the ADA Board of Trustees in January 2003 and updated in 2007 to include amalgam separators. The BMPs are available on the web at: http://www.ada.org/en/member-center/oral-health-topics/amalgam-waste-best-management
State of Connecticut. Connecticut statutes require dental practitioners and dental schools to store, use and handle mercury amalgam in accordance with state and federal law and any best management practices (BMPs) adopted by the State. BMPs were originally adopted in October 2003 and revised in January 2006. DEP has also developed a Certification Form on which dental practitioners certify that their practice or clinic is in compliance with the state adopted BMPs.
Additional Connecticut BMPs, not among those recommended by the ADA include:
use of amalgam substitutes in cases where they are appropriate (i.e., Connecticut requires dentists to make available information about alternative dental practices),
procedures for spill cleanup.
State of Florida. BMPs published by the Florida Department of Environmental Protection cover additional details of handing and decontamination of contact amalgam.
Other State Agencies. Environmental agencies of other states also offer BMPs, most of which are covered by the practices referenced above. Some of the more detailed BMPs include: